Membership meeting schedule for the remainder of 2021.
7pm       September 7th, 2021
7pm       October 5th, 2021
7pm       November 2nd, 2021
7pm       December 7th, 2021
After speaking with Coals Pizza, please note the NEW options for ordering food.  If you plan to eat while attending the Membership Meeting, please plan accordingly as you will need to order from the menu.
Coals will have a server to take orders from the menu or bar.
**All members can order food between 6 and 6:45 pm from the menu to avoid distractions during the meeting**    NO BUFFET WILL BE OFFERED. 
Saddleback XTreme Hard Enduro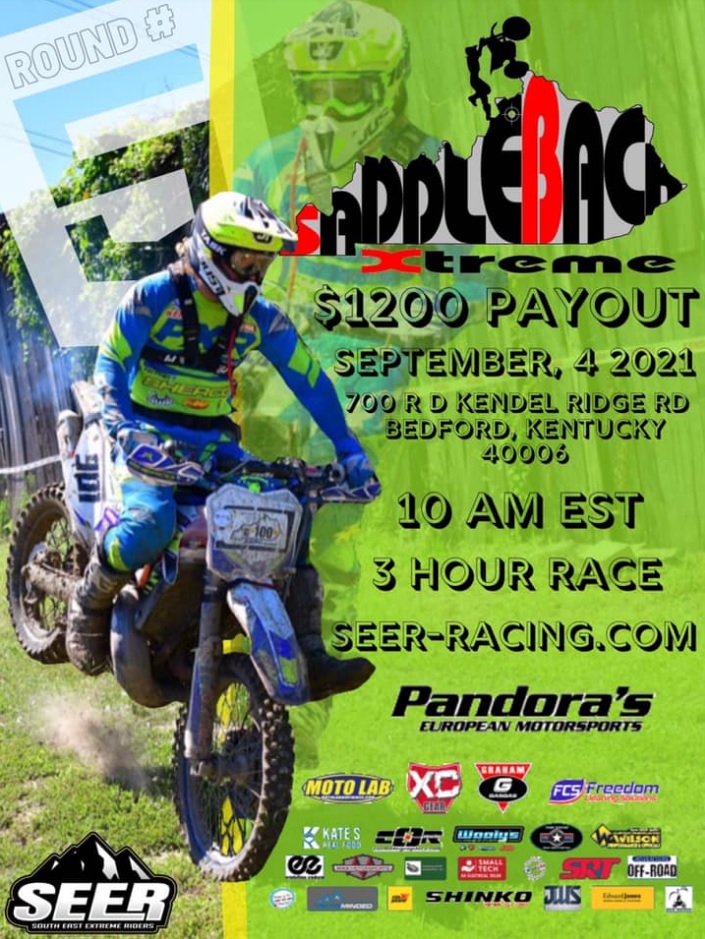 Date: Saturday, September 4, 2021
Race day registration is 7-8:00 am EST.
Pick up your start number between 7-8:30 am EST on race day.
Race starts at 10:00 am EST.
Address: 700 R D Kendall Ridge Rd, Bedford, KY 40006
Your age group is based on your age on 1/1/2021. Be sure and read the release. If you feel you do not have the ability to do this event, contact us for a refund.
Event Details: https://seer-racing.com
---
Saddleback East, Inc. is a family friendly multi discipline off-road motorcycle club in near Bedford, KY.
The club offers its members and guests a wide variety of riding experiences. There are two Moto tracks to practice jumps and turns, miles of single track in over 1200 acres of wooded terrain. The property offers beginners to expert levels of trails to enjoy and challenge your skills. Additionally, there are unique areas that offer Trials riders unique natural obstacles to improve their skills, too.
The club hosts events for Motocross, Hard Enduro and Trials AMA sanctioned events.
2020 Saddleback Extreme Hard Enduro
Saddleback Motocross