Round 1 of the AHRMA Great Lakes Regional Series
WHEN: April 28th – gates open April 27th after 4pm
WHAT: VMX, PVMX, CC and Modern Support classes all Saturday.
More Details:
AHRMA Great Lakes Regional Series – events
---
Team Race held at Saddleback East
Akaydin and Hardesty land on top at Saddleback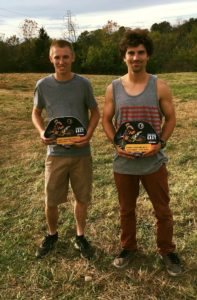 The Saddleback East motorcycle club and Stoney Lonesome MC joined forces for a
team race at the Saddleback property in Bedford Kentucky. It was a great
opportunity for the two clubs to come together and put on a fun day of team
racing and raise money for our first responders. The weather was absolutely
perfect with a slight breeze that kept the dust in the field sections very
bearable for the racers as well as the spectators.
The Saddleback crew laid out a 5 mile course that proved to be very doable and
a lot of fun for all that competed. The trail included quite a bit of single
track trails, open GP course track as well as sections of the large motocross
course.
For this event, we decided to add a twist and have the traditional dead engine
start along with a GP style approach. The starting rider was required to stand
at the row behind their bike and run to their bike and start it upon the green
flag.
Cody Hardesty found himself leading the entire pack at the end of the first lap,
but knew there were several riders right on his rear wheel as they headed into
the rider changing area. During the second lap, Chris Akaydin found himself
temporarily lost allowing the team of Keyes and Robinson to take the overall
lead. We saw some intense racing throughout the day at the front, which
ultimately looked as if it came down to the efficiency in the pit/changing area.
While the front runners were flying around the course in a heated battle, we
were seeing several intense class races happening. In the Senior 40+ class, we
saw the team of Carrier/Cook in a wheel to wheel race with Clark/Ryan. This
class race would come down to the last lap with only :05 seconds separating
first and second and landing them in the 3rd and 4th spots overall. In addition,
we saw the Father/Son/Daughter team of Fry/Fry drop the hammer and take the 3rd
spot on the podium from the Hutchings team.
Back up front, Akaydin/Hardesty went into the white flag with a :23 second lead
over Robinson/Keyes. Robinson pushed as hard as he could, but Hardesty was able
to maintain the margin and win the first team race by a mere :25 seconds after 3
hours of intense racing.
Both clubs would like to thank all those that came out and joined the event and
helped us support the first responders in our areas.
Results can be found at Stoney Lonesome MC
~ Dave Dunnuck